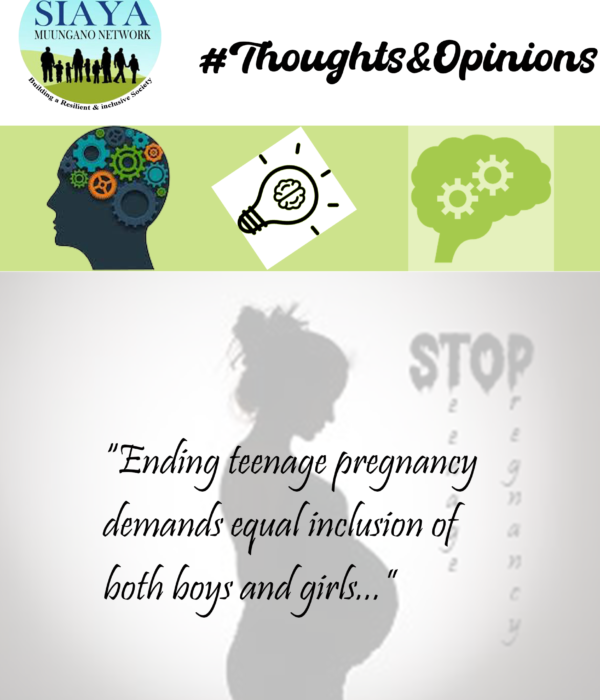 Adolescent Girls and Young Women aged between 15-19 years old are trapped into teenage pregnancy siege at a rate of 15% countrywide. According to the latest report by Kenya National Bureau of Statistics, this percentage represent the cohort of young ,girls and women who have ever been pregnant.
Deeper insight into this finding indicate that Siaya County contributes to 21% of teenage pregnancy thus coming send in Nyanza region slightly below Homabay and Migori Counties both taking the lead at 23%. What would this mean? This is a call to collective action towards taming, controlling, reducing and if possible ending this catastrophe.
Poverty and harsh economic times across the country are the leading contributing factor towards teenage pregnancy. A better percentage of families are living below the poverty line, a condition that render them vulnerable when it comes to providing essential requirements to their children; girls to be precise. This pushes the girls from such families to go out of the way trying to seek the "un-provided" essentials where in most cases are exchanged with sex – unsafe sex!
Constant and regular engagement with young people at community level in Siaya County outlined inadequate information and limited access to Sexual Reproductive Health and Rights (SRHR) services as another factor building to teenage pregnancy. With little knowledge in SRHR the adolescents fail to make informed choices on their sexuality thus falling victims to the consequences.
Teenage pregnancy is not only an individual threat but also a national scourge. When young girls turn into mothers definitely there are school drop-outs. You can imagine the present world economy without education; it is a path towards completing the poverty cycle that comes with teenage pregnancy.
Maternal mortality is rampant among under age expectant girls and young women comprising of the demise of mother or the infant or both. Studies have shown that adolescent girls are prone to hypertensive disorders especially when they get expectant at such an early stage. It is quite heartbreaking loosing young people to a misfortune that can be contained… But how?
The rise of Civil Society Organizations (CSOs) in Kenya and Siaya County such as Siaya Muungano Network has built task forces towards meaningful engagement with adolescent girls. These CSOs have ensured mentorship sessions with the girls, disseminating information to them on matters SRH thus guiding them in making informed choices. Through networks and partnerships, the organizations have also advocated for access to SRHR services and commodities to the adolescent girls. On the other hand, the government of Kenya has responded to the effort of the CSOs and to some extent made available the Sexual health commodities, services and information to the public.
Despite the efforts put in place by the Civil Society Organizations countrywide and the Government, our girls are still not safe from teenage pregnancy. Where is the gap? It exists with the other player who makes the pregnancy true; the boy child or rather the male gender. This matter is way beyond just considering the girl child; it is a call to action to all of us who feel disturbed with teenage pregnancy issue to bring both genders on board, inform & educate them equally, place them at par on the access of SRHR services as well as enjoying Sexual health rights.